Our Good Food
We're an independent deli in the heart of the wonderful Bishopthorpe Road in York.  Our mission is to spread joy through delicious food and great service.  
Our regular offer includes artisan breads and sourdoughs from Haxby Baker and Bluebird Bakery, a wide selection of cheeses, cooked meat, salami, pate, smoked salmon, salads, olives, Yorkshire Baker savoury pastries (including the biggest scotch eggs you ever saw!) and scrumptious homemade cakes.  Croissants and pastries are baked in house on Thursdays, Fridays and Saturdays.
We have a takeaway service at lunchtime of stuffed pittas, filled ciabatta and granary rolls and salad boxes.  In autumn and winter our lunchtime soups are legendary!
Our gift vouchers are the perfect present for you foodie friends.  Available in £5, £10 and £20 denominations.
All served with a smile.
We're eternally grateful to our regular and new customers as well as those just passing through.  As a small, independent business it really is a case of #UseUsOrLoseUs and we thank you for using us.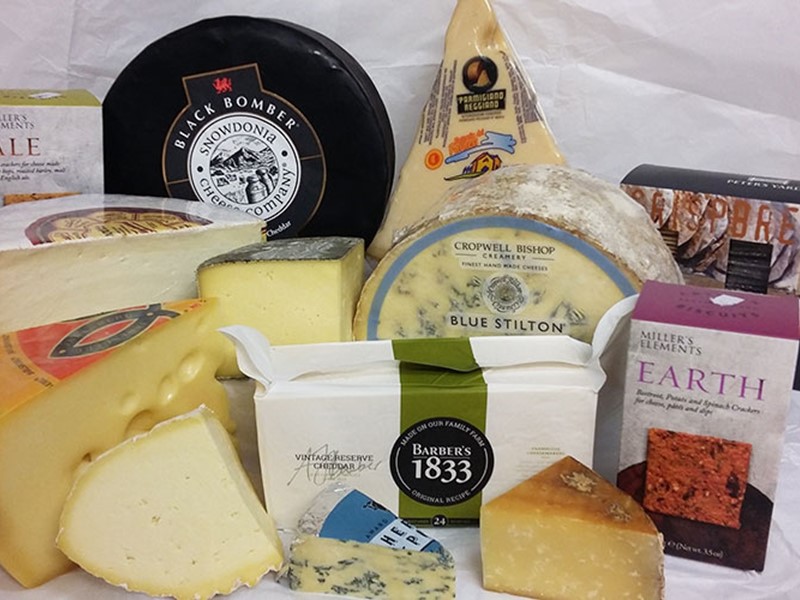 Our Cheese
We offer a wide and varied selection of quality cheese from as close to home as Yorkshire to as far away as Scandinavia.  As well as the usual British suspects, we offer cheeses from France (of course!), Italy, Germany, Spain, Holland, Norway…the list goes on.  Our usual offer is boasts around 50 cheeses (if only we had more space…) and we're able to source many more if there is something specific you'd like us to find for you.  So, pop in and "Say Cheese"!

Our Bread
We are lucky to have two local artisan bakeries, Haxby Baker and Bluebird Bakery, that deliver their fresh bread to us every day that we're open.  In fact it's so fresh, it's often still warm when it arrives.  Thanks to founders and chief bread blokes Phil and Al's dedication, both bakers produce a wide variety of breads from a humble and hearty wholemeal to specialist sour doughs, ryes, spelt bread,  baguettes, ciabatta, granary, crusty whites…you get the picture! 
We also offer a great quality gluten free bread range which we source from Scotland and many of our glutenfree'ers place a regular order.  Give us a shout if you'd like to join them as it flies out almost as soon as it touches the shelves!
At the weekend (which in our world starts on Thursday!) we provide freshly baked pastries; plain and almond croissants, pain au chocolate, pain aux raisin and delicious chocolate torsades.  On Saturdays our legendary Portuguese custard tarts hit the counter.  Please form a disorderly queue…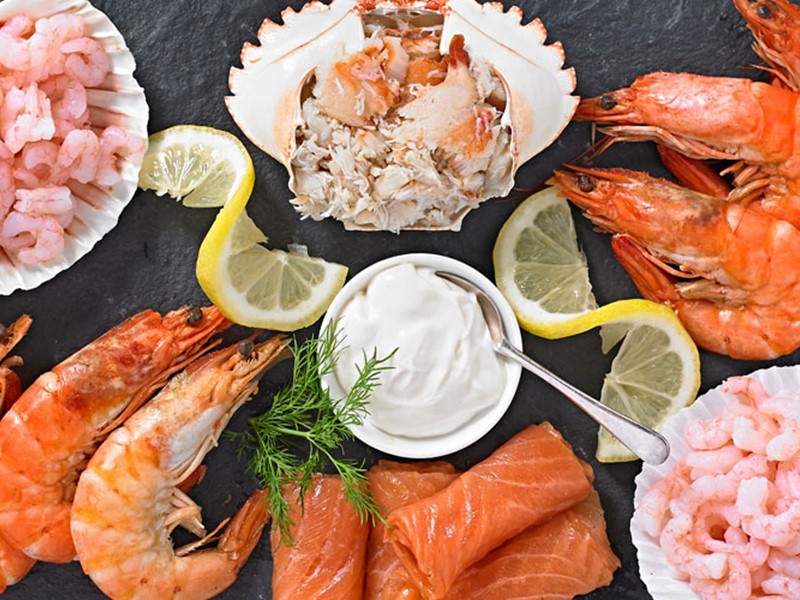 Ramus Seafood
In partnership with Ramus Seafood Emporium, we are delighted to offer fresh fish and seafood to order.  Orders placed by Thursday lunchtime will be delivered to the shop on Friday morning for you to call in and collect.  Either call the shop on 01904 637445 to place and pay for your order or request a call back using the enquiry form.  Please note, during busy trading times, we may not be able to get to the phone so please keep trying!

Our Cakes
Our delicious cakes are all homemade, either inhouse or by the lovely Florence at "Peace of Cake".  Available by the slice from the cake counter and if you'd like to order a whole one for a celebration, please get in touch.  After all, To quote the famous foody Julia Childs, "A party without a cake is just a meeting!".