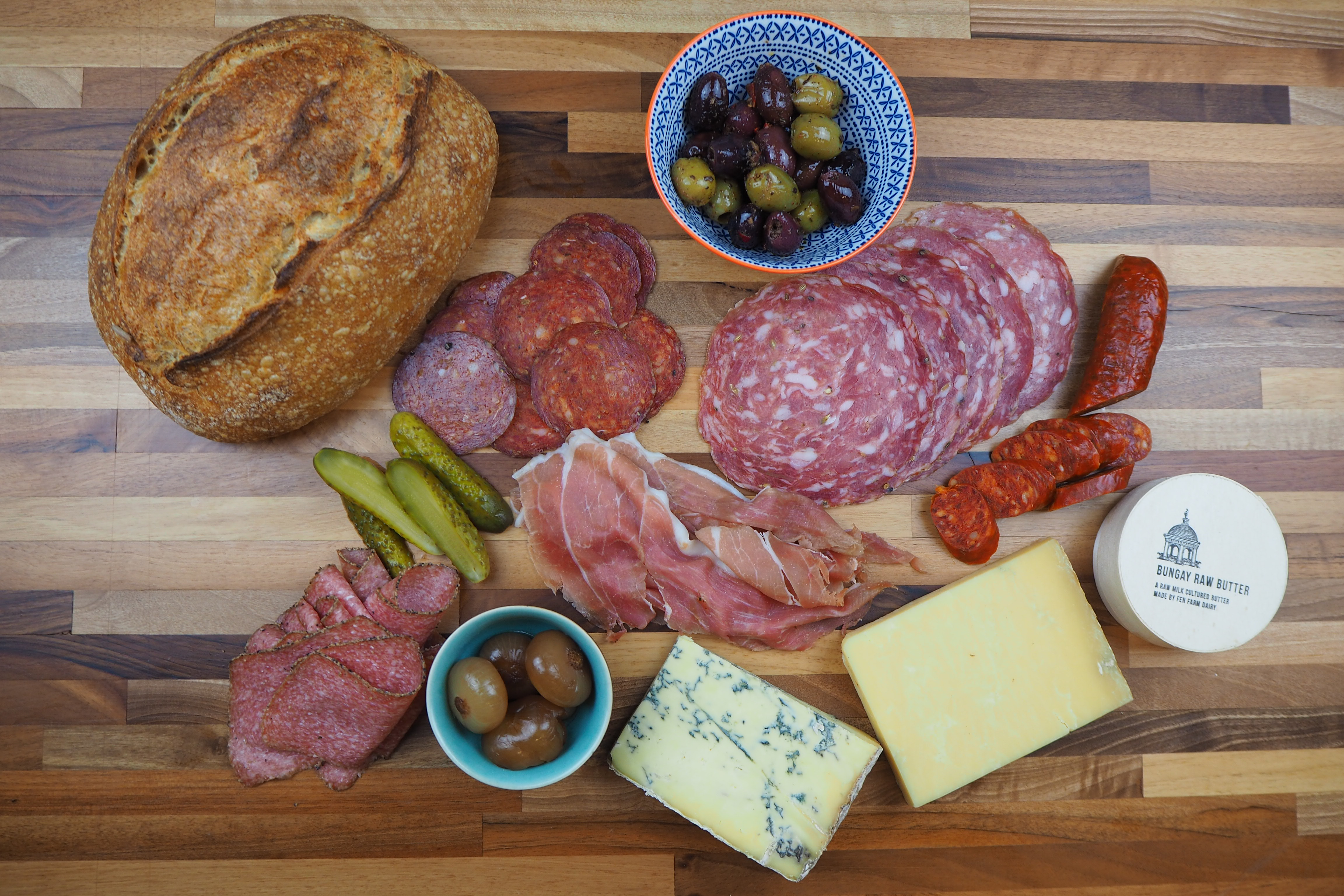 Charcuterie board 
This deli platter box includes: 
Yorkshire Chorizo seasoned with paprika and garlic. Crafted from high welfare Yorkshire outdoor bred pigs that has been awarded a 3-star Great Taste Award.
Yorkshire pepperoni with red wine. Yorkshire beef and pork blended together with fennel and cayenne for a lightly spiced salami. This has been awarded a 2-star Great Taste Award in 2017.
Salami Finocchiona – A coarsely ground Italian pork marbled with fat and seasoned with wild fennel seeds for a sweet, aromatic flavour
Prosciutto Nostrano – Italian dry-cured Pork
German Peppered Salami
Isle of Mull Cheddar - known as the 'king' of Scottish cheese - A mature farmhouse cheddar made from unpasteurised cows' milk from a heard of Friesian cows. It is matured for 8 months and is strong, sharp and nutty in flavour
Cropwell Bishop Stilton - A velvety soft Stilton with a rich, buttery and deep savoury taste. Well-rounded with a nutty finish.
Haxby Bakehouse small white sourdough [Pain de Levain]
Bungay Raw Butter - Rich and full flavoured this unpasteurised butter is made fresh on the family farm in Suffolk.  Using their Montbeliarde cows' milk their cream is gently cultured and beaten to form a traditional handmade unpasteurised butter
Berber Mix Olives – Mixed pitted olives; Spanish Gordal, Manzanilla and Kalamata with Harissa and preserved lemons
Cornichons and balsamic onions
The items included in this platter are subject to availability and as such there may be some substitutes made to the same value.
Platters are pick up from the store only -  when ordering please specify the day you are wanting to pick up the platter. For next day pick up please order by 5.00pm the previous day. A confirmation e-mail will be sent to confirm your order along with collection arrangements.
Price - £30.00